---
Some people don't know when or from where their next meal is going to come. Food deserts exist where people may not have the financial means to acquire food or access to grocery stores with fresh food they can afford.
According to the South Carolina Department of Health and Environmental Control, residents of the Eau Claire community, which is home to the seminary, struggles with food deserts. This challenge, in turn, has given the seminary an opportunity to act.
Food insecurities are a common occurrence in South Carolina, with all but a handful of counties in the state experiencing them to one degree or another, according to the SCDHEC.
The Rev. Dr. Melanie Dobson, assistant professor, was interested in teaching her students about those issues after attending an Eating Together Faithfully training program that explored food and food systems from a Christian perspective.
"It's a framework designed to explore the question of — how do Christians eat in a way that glorifies God?" she said. "It also incorporates aspects of food justice, ecology and reading scripture together."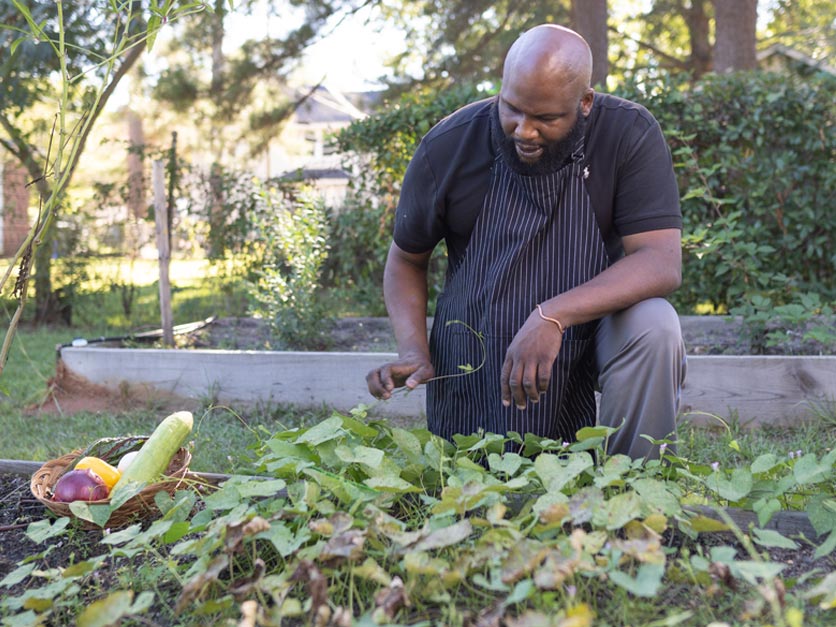 The program had two sessions at LTSS before the pandemic shut down the campus; however, it put Dobson and the seminary on a path with Keith Alexander, Axiom Farms and a new way of living — and eating — on campus.
LTSS is in a position to affect issues of food insecurity in its neighborhood. As a Christian institution of higher learning, its members are called to love thy neighbor and help those in need. With 10 acres and the humid subtropical climate of Columbia, South Carolina, it has the space to put those words into action.
"On a larger scale, less than 2 percent of the population farms, but 100 percent of us eat," Alexander said. "That's not a sustainable model. We've entered a partnership with Lenoir-Rhyne to bring a food hub or farm to campus."
Dobson attended the Eating Together Faithfully training program, which put her in touch with Alexander through the nonprofit Koinonia of Columbia. Through their interactions, they developed the spring pilot program of Eating Together Faithfully on campus. This led to LTSS forming a relationship with Alexander and Axiom Farms to become the foodservice vendor on campus using his restaurant Rare Variety Café. It also creates an opportunity for the seminary to address food insecurities in the community by providing fresh fruits and vegetables to residents in Richland and Lexington counties.
Using roughly a quarter of an acre plot on campus, Alexander uses grow bags, similar to potted plants. This allows him to maximize yield and minimize labor by providing a better quality of soil and limiting the necessity to pull weeds. He also has raised garden beds surrounding the farm itself to plant flowers and even introduce various insects that promote pollination and prevent infestation.
"The implications are going to be enormous," he said. "We already have a relationship with the community. Not only are we going to feed the campus, but also people in the community are already excited for us to open and have access to fresh food."
The menu features vegetarian and vegan options, such as a fried eggplant filet. Other options include raw collard green and kale salads; however, the menu changes with the seasons as different produce is grown to maximize the space.
"We'll be able to make everything from baba ganoush with eggplants to sides that we can add to our salads," he said. "It's a much fresher taste."
LTSS and Alexander broke ground on the new farm in September with plans to grow a few fall crops in preparation for the spring and a complete growing cycle. 
To help get the farm off the ground, the seminary applied and was approved for grants from In Trust Center for Theological Schools and the North Carolina Synod of the Evangelical Lutheran Church in America.